Frequently Asked Questions
You'd find answers to the most commonly asked questions
---
Do you have a catalog and price list of the trophies?
All our products are displayed online. You will have the latest information as our site is updated frequently. We do not have a physical catalog.
We do not have a price list as project requirements can vary widely. We recommend you submit an online enquiry with your requirements. We will send you a quotation within 1 business day. Alternatively, please email or speak to our staff and we will assist you.
How can I make an enquiry?
First, click on the image of your selected design.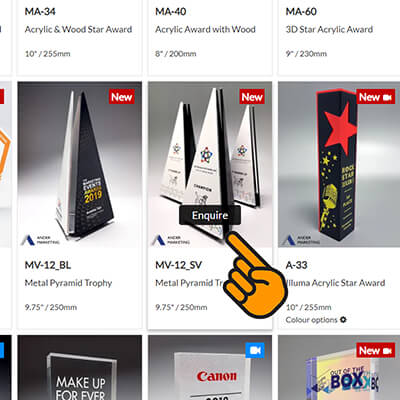 Next, input your quantity and finishing and click the "Add to Enquiry" button. You can repeat these first two steps to add another product to your cart.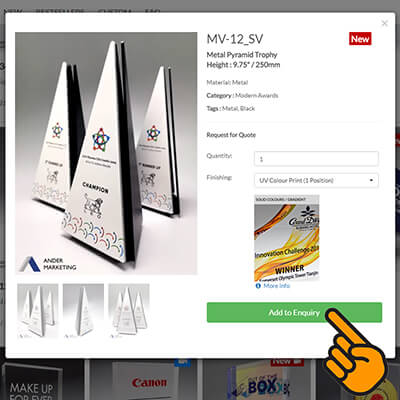 Finally, click on the icon at the top right hand corner of your screen to go to your cart summary. Fill in your contact details and submit your enquiry.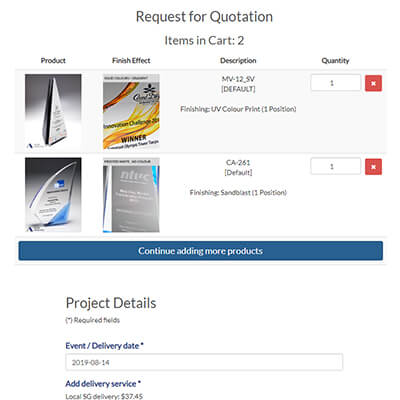 We will reply to your enquiry within 1 business day.
How can I place an order?
Email us your signed and stamped quotation to design@ander.com.sg to confirm your order. Also email us the typed-text / logos for your project so we can start work on your artwork layout.
How much does it cost for engraving / printing?
Prices in our quotation includes the specified finishing. The finishing (laser engraving, sandblasting etc.) for each product will be clearly indicated. Please inform our staff if you have additional requirements (eg. to be in colour, multiple logos) during enquiry so that we can give you an accurate quotation.
How long will it take to complete my order?
Your quotation will indicate the production lead time. Your order will normally be ready within 7-10 working days. Larger volume orders will take 3 weeks or more. Customized designs are project dependent and may require a longer production period (eg. 6 weeks). Please inform us if you have an urgent deadline or a specific requirement date and we will assist you.
How much is delivery?
The fee for one-time local delivery is $37.80. We support free local delivery for orders above $1,080. You may also choose to collect your order at our showroom.
Please note there are some restricted areas which we may be unable to deliver to or would require additional fee (eg. army camps / airports / protected areas / Sentosa / offshore islands). Please contact our staff to assist you.
How can I pay?
We prefer digital payments (inter-bank transfer / PayNow). We also accept payment via cheque or cash. We are a Gebiz registered vendor and support e-invoicing for government organizations. We currently do not have NETS / credit card payment facilities at our showroom.
Can you do a sample artwork before I confirm my order?
We focus our resources to support confirmed orders. Hence, we will work to send you the artwork proof for approval after order confirmation. We will start production only after you have approved the artwork.
Can you fully customize my trophies (eg. different shape, sizes, colours)?
Yes we can do custom designs. Please share with us as much available information on the following so that we can better advise you.
Reference images of design
Quantity required
Project timeframe
Budget
Please note that customized designs have a high startup cost. It'll will be more economical to consider our instock designs if you want only a few pieces. Click here for more information at our custom design section.
Can you come down to our office to show us some sample trophies?
We currently do not make office visits. We can better assist you to select a suitable product at our showroom where we have a range of products on display.
Need more help?
Our team is available Weekdays
8am - 12.30pm
1.30pm - 5.30pm